Competitive Intelligence For SEO Professionals
Cora SEO Software
is desktop software for
Macs and PCs
that measures up to
880 SEO factors
and correlates which ones appear to influence rankings the most for your keywords. Cora then tells you exactly how much of each factor you need to be competitive on page 1 of Google.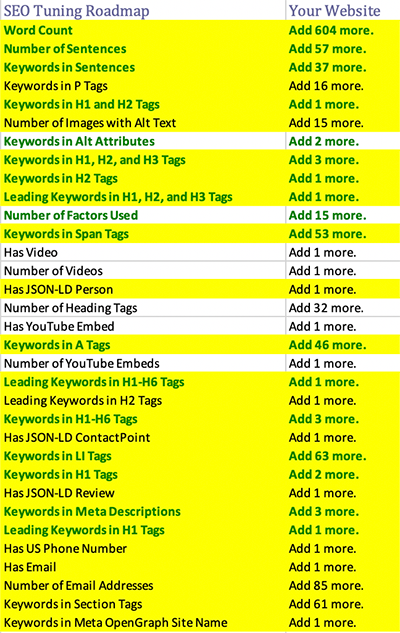 Cora Settings
General
,
Profiles
,
Reports
,
Tracked Domains
,
Competitors
,
Banned Domains
,
Ahrefs API
,
SEMRush API
,
DomDetailer API
,
Stop Words
,
Sentiment Words
,
Question Words
,
Recency Words
,
Commercial Intent Words
,
Proxies
,
Factors
,
Sharing
,
Slow Render
,
Colors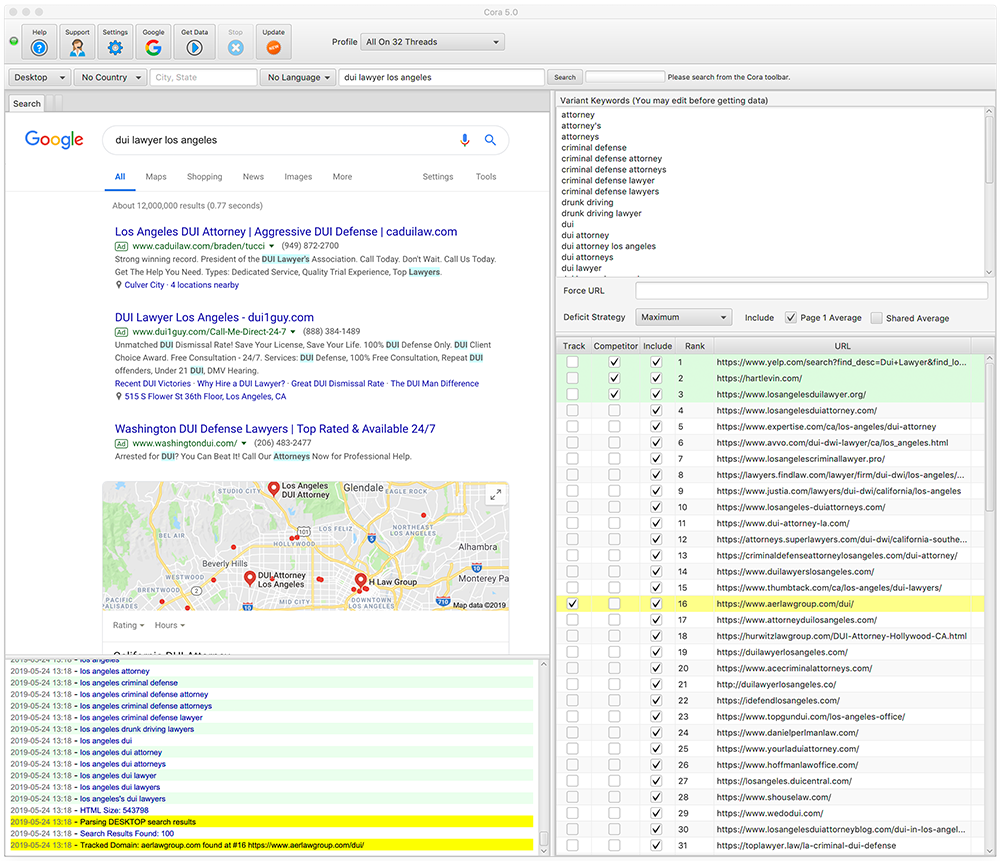 Cora SEO Software
also provides a wealth of other reports beyond the road map. Here are some of the other reports you will find:
Licenses are "per user".
You may install on a second computer as long as they are not in use at the same time.
There is no limit on the number of keywords or websites.



Cora is the best software I have ever used! Cora kept one of my clients on page one when both Google and Amazon dropped into keywords for some cloud-based load balancing. They pushed others off the page but using Cora kept us there. I was more impressed than the client. Its still good old-fashioned SEO work but the data in Cora takes out the let's try this thought process. Best way to describe it is the difference between a laser-guided missile on a F-18 vs carpet bombing in WW II. Both get the job done but one is faster more effective and does not kill my client's budget with collateral damage on wasted man-hours. Can spend the saved money on better content or additional keywords to rank for. Cora in the right hands is deadly for SEO. Give me a month free and you can put m picture with the quote LOL Sad thing is a lot of the people that claim they do SEO would not know half of the things on the list or how to fix them. Seriously it is one of the best tools I have ever used for SEO.





I use Cora day to day between my SEO Agency and other SEO Ventures. They're have been many tools I have seen come and go over the years but Cora is here to stay my friend. If you want to understand what is happening and stay on curve with Googles constant updates I would highly suggest you pick up a copy.





Cora SEO Software is our secret weapon to winning with on-page SEO. With the help of Cora's hard data and scientific suggestions, we've been able to take #1 for our clients and ourselves. It's a sophisticated piece of software with lots of ins and outs that take time & effort to fully understand, but it's absolutely worth the time, money & effort.





Cora has been the staple of our SEO business for a while now. Our clients trust us because we're not guessing: we're simply using Cora's measurements to tweak the signals that correlate with higher rankings and we do it in a methodical way. Honestly, this is the best tool on the market, and I'd say don't have a chance without it.





Cora is the only SEO software that can help you identify the real effects of a Google update or why a competitor jumped you. SEOs not using Cora are in the dark, making wild guesses.





Cora is hands down the best on page optimization tool on the market. While the rest strive to do what Cora does, Ted is setting the gold standard in science and math based decision making to build and optimize websites.





Ted's CORA tool is nothing short of amazing. Seriously, the best word I have to describe it is just "wow". If you want a mathematical and scientific approach to ranking and getting EVERY possible advantage over your competitors, this is it, hands down. One Warning though, if you love data like I do - using this tool is slightly addictive!





When you love data and metrics, you will love Cora. It is astonishing to see the correlation between the top ranking sites for any given query! Stop guessing, start using Cora!




Cora SEO software is simply the finest SEO software ever created including Ahrefs, Semrush, screaming frog or any of the other ones they are nothing compared to what Cora can do and how Cora can rip open the secrets from Google you need to try this immediately it is the default de-facto software for any SEO who claims to know what they're talking about.





Oh and if anyone is on the fence when it comes to Cora, don't be, it's the single best investment I have made in relation to SEO - EVER. And the support that Ted provides is fantastic.





I just have to say that Cora is plain crazy. After a couple days of using it I'm seeing some of the best progress that I've ever seen on some pages! Jumps from page 3 and 4 to page 1 or top of page 2. I had a page that wasn't ranking at all and wasn't written particularly well I was messing with today and it just popped up at 66 after never ranking before.




... and hundreds more!





Licenses are "per user".
You may install on a second computer as long as they are not in use at the same time.
There is no limit on the number of keywords or websites.