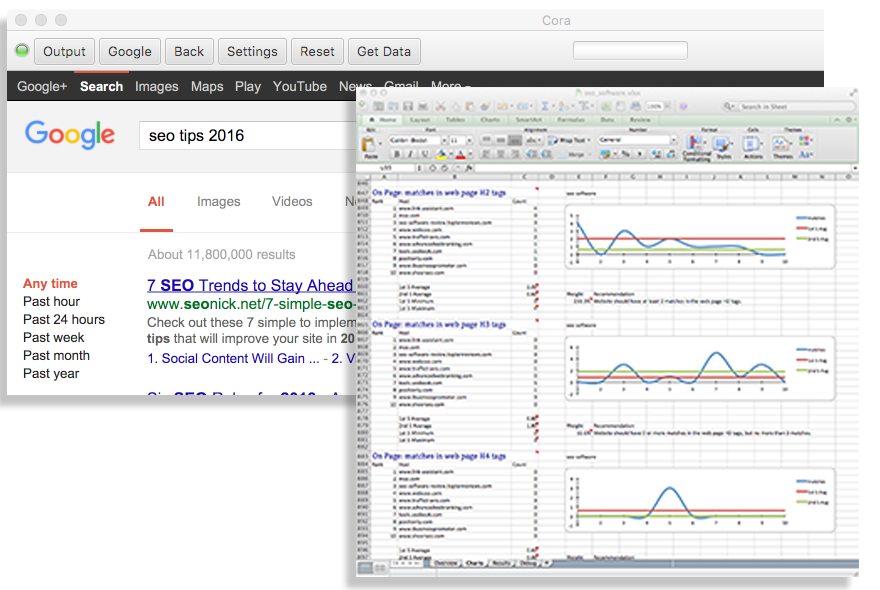 Cora SEO Software
Available for Mac & PC: Cora measures over 520 on-page and off-page SEO factors. Cora shows you where your SEO tuning is deficient and by how much. Cora uses factor measurement data to give you an advantage over your competitors and to differentiate your SEO services from mainstream SEO. Cora lets you optionally use your Ahrefs account (sold separately) for off-page factors like backlinks and social signals.
How does Cora work?
Cora SEO Software pulls the top 100 search results for each keyword (first 10 pages) and then it visits each result page and measures over three hundred on page SEO factors. Then it calculates the correlation coefficient of each factor with respect to the results' ranking positions. When we find strong correlation coefficients then we have found factors that appear to influence ranking position for your search terms. The column "Page 1 Avg" gives you the average measure for a factor on page 1 and is extremely useful for determining if your on page tuning has reached competitive parity.
View our Video Tutorials
For businesses who just want one time guidance and recommendations
Try our SEO AUDIT
Diagnose Common Issues
Common problems are easy to see in search results, HTML source, and in competitive metrics.

Identify Opportunites
Identifying likely factors and seeing how your competitors successfully use them can save you time and effort.

Maximize Your Returns
Spend more of your time on things that are more likely to produce results.

Minimize Your Effort
By measuring what does work you can rule out lots of things that don't that have been taking away from your time and resources.
A review of keywords, website, Google Search Console, Google Analytics, & Competitors
A detailed report of findings.
A copy of all the data collected to perform the analysis.
Takes 5 business days to complete.
frequently asked questions
FAQ
Who uses Cora SEO software?
Cora SEO software is typically used by SEO professionals. This includes SEO agencies, in-house SEO, and independent SEO consultants.
Why use Cora SEO software?
Cora SEO software makes over 300 on-page SEO factor measurements and determines which factors correlate with ranking position. This data is used to make recommendations about which factors you should focus on and to what degree of tuning you need to apply for your target keywords. Cora is ideal for for professional SEOs who want to back their recommendations with real world data and thus differentiating themselves from SEOs who solely operate on outdated anecdotal experiences.